Institut Esthederm Intensive Vitamin C Dual Concentrate Brightening Booster-Serum 10ml
Face booster serum that brightens dark spots and uneven skin tone.
Product benefits:
Makes the skin firm, luminous and brightened

Reduces dark spots

Prevents new dark spots

Smoothes fine lines and wrinkles

Boosts collagen production

Prolongs skin's youthfulness on a cellular level

Has antioxidant action, neutralising free radicals and helping slowing down signs of aging
FREE standard Shipping on orders over £35. Learn more about shipping here
Institut Esthederm Intensive Vitamine C² Dual Concentrate is a brightening antioxidant booster-serum that stimulates collagen and elastin production. It is the first booster-serum that combines 2 forms of vitamin C for quick and long-lasting results, transforming the quality of the skin. This booster-serum contains 100% fresh vitamin C formula at the perfect dose your skin needs. With our powerful scientifical technologies your skin will be radiant, brightened, evened and smooth with less visible dark spots.

It's been formulated with exclusive technologies and patented active ingredients:
• VITAMIN C COMPLEX 12% - two forms of vitamin C with complementary actions (PURE VITAMIN C 10% for immediate intracellular release + PRO-VITAMIN C 2% for long-lasting intracellular release) to brighten and smoothen the skin and make dark spots less visible
• CELLULAR WATER PATENT to optimize skin cell energy and preserve skin's youthfulness – to support beauty over time

CLINICALLY PROVEN EFFECTIVENESS! • +44% more radiant skin*
• -29% reduced dark spots intensity*
• +48% smoothed wrinkles and lines*

VISIBLE RESULTS ONLY AFTER 14 DAYS OF USE!
• 96% reduced dark spots**
• 97% more radiant skin**
• 100% smoothened lines and wrinkles**

*Clinical test, 30 volunteers with dull complexion and dark spots, twice-daily application/ 28 days **Usage test under dermatological supervision, 30 volunteers / 14 days (% positive answers).


For all skin types, especially uneven skin tone and dark spots.

AQUA/WATER/EAU, ASCORBIC ACID, GLYCERIN, PROPYLHEPTYL CAPRYLATE, SODIUM CITRATE, ASCORBYL GLUCOSIDE, GLYCERYL OLEATE CITRATE, FRAGRANCE (PARFUM), PENTYLENE GLYCOL, SORBITAN SESQUIOLEATE, POLYACRYLATE CROSSPOLYMER-6, 1,2-HEXANEDIOL, CAPRYLYL GLYCOL, XANTHAN GUM, CAPRYLIC/CAPRIC TRIGLYCERIDE, SODIUM CHLORIDE, CITRIC ACID, AMINOETHANESULFINIC ACID, CARNOSINE, POTASSIUM CHLORIDE, SODIUM BICARBONATE, TOCOPHEROL, DISODIUM PHOSPHATE, MAGNESIUM SULFATE, POTASSIUM PHOSPHATE, CALCIUM CHLORIDE. [ES300]
Directions for use
To activate - turn the bottle upside down and peel off the protective foil. Firmly press the button twice to release fresh vitamin C and mix the formulation, shaking for 30 seconds. Shake well before each use. After opening the highest stability is guaranteed for 15 days allowing an intensive 2-week boosting treatment for brightened and smoothed skin.
1
Apply 1 pump morning and evening to a cleansed and dry face & neck.
2
Advised as a 2-month treatment, also as a follow-up to aesthetic brightening procedures such as lasers and peels and following fillers and Botox to boost collagen production. Suitable also for sensitive skin.
3
Avoid sun exposure during the treatment and use suncare during the day.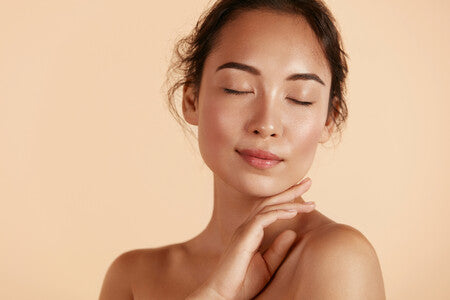 A brightening face booster serum combining 10% pure vitamin C with 2% pro-vitamin C in a light texture for a visible result in 14 days on uneven skin tone, dark spots and lack of radiance. Reduces dark spots, fights against oxidation, restores radiance to the complexion and smoothes the cutaneous micro-relief. For all skin types even sensitive ones.
Institut Esthederm Intensive Vitamin C Dual Concentrate Brightening Booster-Serum 10ml
Serum
Loved this product serum is my favourite to use on my face and this felt very luxurious
Good Vitamin C Serum
I have used this vitamin C serum everyday for 2.5 weeks by rubbing a few drops in the psalm of my hands and patting it onto my face and neck. This serum is to target dark spots and give radiance to dull skin. I did see some improvement and my face does feel softer and more hydrated as well. Im going to continue to use the serum to give it longer to work and even out my complexion. I am very hopeful that I will see more improvement over the coming weeks and therefore have given 4 stars as this is a product that I will purchase.
Intensive Vitamine C Dual Concentrate
I suffer with pigmentation and dark spots on specific areas on my face but I have never used a Vitamin C serum that is 100% active before, so I was very excited to try this! The packaging is small but this product really packs a punch. It is described as a 14 day intensive cure. It really gets to work straight away, thanks to its 2 forms of Vitamin C. I followed the instructions on the packaging carefully and implemented it into my routine. I noticed my skin feels brighter and smoother. I have used products from Institut Esthederm before and the quality is just superb. A real, great treatment to my anti ageing routine. I am thankful to have tried this product and I really recommend it.
Serum
Very good product you can difference straight away excellent product does what it's meant firm skin up